Next Exit Photography is NOW Booking 2022 and 2023
Weddings, Bar & Bat Mitzvahs, and Special Events!
Award-Winning Los Angeles Wedding, Bar & Bat Mitzvah and Family Photographers
Hello and welcome to Next Exit Photography! We are Cat and Adi Benner, wife and husband business partners, and full-time professional Los Angeles wedding and event photographers. Our incredible team is considered the best in Los Angeles and we are proud to have photographed over 1000 weddings, bar and bat mitzvahs and special events. We live in West Los Angeles with our two perfect children, Clara (12) and Spencer (10).
We have photographed weddings and events at most every event location across Southern California. Of course, we have our favorites that we also call home. Make sure to check out the "Venues We Love" galleries on the side bar. We're most often working in Santa Monica, Beverly Hills, Malibu, and across Los Angeles and Orange County. We love exploring new event venues across our city on a weekly basis. We are preferred photographers at the very best venues across Southern California.
Cat and Adi are extremely active in the local event industry and have mentored dozens of photographers on their professional journey. They are experienced educators and have lectured at several international wedding photography conferences including Fearless and WPPI. Giving back to the photography community has been a huge priority for our studio as it has been so good to us over the last two decades.
Los Angeles Wedding Photographers, Next Exit Photography are proud to have been featured in these amazing publications: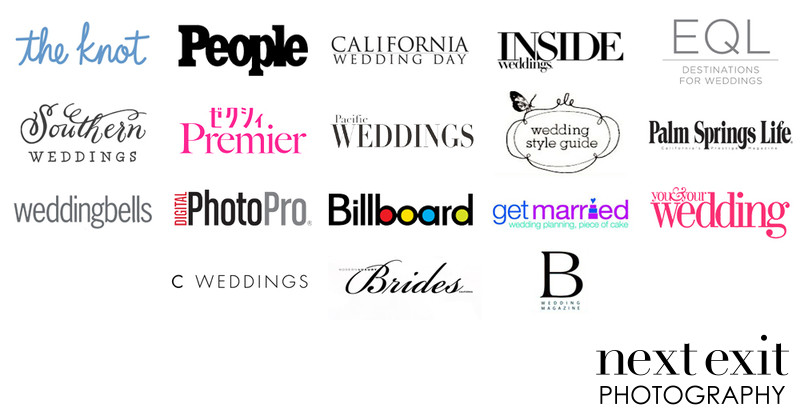 Los Angeles Wedding Photography Awards
• Winner of California Wedding Day Magazine's Best of Los Angeles Wedding Photography Studio
• Seven time winners of the Best of the Knot
• Six time winners of Wedding Wire's Couple's Choice Award
• 5 Star Yelp Rated
Small Weddings and Elopements
Next Exit Photography has never been a stranger to small intimate backyard weddings, micro weddings and elopements. We have been photographing beautifully intimate weddings for almost 20 years and we have to say that it's one of our favorite types of wedding to photograph. We are currently offering special 2020 summer/fall rates on elopement photography and micro wedding photography. Whether it's just the two of you and Officiant, the couple and their parents and maybe a few friends, Next Exit Photography would be honored to photograph your uniquely private vows and exceptional moments.
Their work has been published in more than 100 magazines and blogs around the globe. Their joyful yet laid-back attitude makes them a favorite choice for many SoCal families, event professionals and venues.
Los Angeles Bar Mitzvah and Bat Mitzvah Photography
With a creative and comfortable style, with energy and determination, Cat and Adi Benner are considered two of the most sought after Los Angeles Bar and Bat Mitzvah Photographers in Southern California. This husband and wife super-duo is recognized worldwide for their magazine-worthy images, unmatched quality of service and familial devotion to their clients since opening their thriving photography studio in 2003. While they are known for a candid, editorial and emotional style, Cat and Adi also create fashion forward images and exquisite portraits of the Mitzvah child, their families and friends that will be appreciated for generations to come.
For more information about photography for weddings, bar and bat mitzvahs, special events, elopements and small weddings click here or contact us.