ABOUT US
---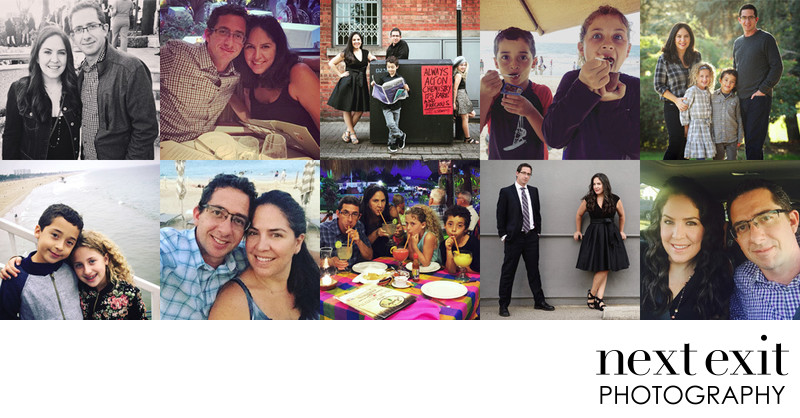 Let Us Tell You Our Story.
Next Exit photographers, Cat and Adi Benner, are best known for their beautiful storytelling and impactful editorial people pictures. Their creative and comfortable style, combined with boundless energy and determination, offer clients an unmatched quality of service that results in magazine-worthy lifestyle, event and portrait images.
Through their lens, Cat and Adi document the most genuine expressions by utilizing their sense of humor, skilled art direction and unique penchant for capturing distinctive personalities, regardless of their client's comfort level.
Picture a married couple that does what they love most for work (taking pictures), while loving each other and their family the most of all. Oh, and two perfect children to boot? Check! That's us. Cat and Adi Benner. We are Next Exit Photography.
We started shooting weddings, events, lifestyle and portraits in 2003. Since then, our team has grown to be one of the most widely recognized, published and award winning photography studios in Southern California. And, we can't wait till our next assignment.
We specialize in photographing people. It's what we do best. Our photography style is emotional, consistent, clean and timeless.
Our formula for getting the perfect shot is complex. We rely on our talent, skill, training, experience, and never forget, a ton of chutzpah.
Meet Us.
Adi Benner is known for his exceptional documentary style approach. He has an innate skill for capturing his clients in almost any environment, from a from an old train track to a florescent-filled fast food restaurant.
As a graduate of the USC Cinema School in 1994, Adi focused his studies in environmental portraiture and photojournalism. He is a master at digital processing and retouching, having spent more than 20 years mastering Adobe Photoshop and Creative Suite.
Adi's sense of humor will charm you and disarm, putting you right at ease. Ultimately, he is committed to your experience and the success of your final product.
Cat Krantz Benner excels in relaxed portraiture and capturing real emotion. She prides herself on finding that exact moment when you look your best and will do whatever it takes to get that drool worthy shot. She will make you look perfectly calm on your shoot day, even if you aren't.
Though her laid-back attitude puts you at ease, Cat would never be accused of lacking assertiveness. Born in South Africa, Cat moved to the Westside of Los Angeles when she was two, graduated from Tufts University in Boston and worked at Martha Stewart in New York before a stint at running a successful party planning firm.
During her early twenties, Cat carried her camera to nearly thirty countries where she learned to document the intricate and distinctive details of different customs and cultures. She returned to Los Angeles where she attended Santa Monica College's rigorous school of commercial photography where she mastered the arts of composition, lighting, and fashion.